Originally invented in 1957 to maintain the chrome on American show cars, Quick-Glo set the standard as the only non-toxic, cleaner, polisher and a protector for use on most hard surfaces including (but not limited to) chrome, stainless steel, glass and mirrors. Today, Quick-Glo is still the premium product that you can rely on to perform as intended:
• Very effectively and quickly removes rust, even when the rust is bubbling
• Leaves a lustrous shine, showing your chrome at it's very best
• Protects the surface, which delays the re-appearance of rust and maintains the shine for longer
ORIGINAL
Using a unique mix of silicas and pumice, the Original formula very effectively and quickly removes rust from bubbling or heavily pitted chrome.
Not only do the hard waxes leave a lustrous shine, they leave a protective coating on the surface, which blocks moisture and thus helping to delay the re-appearance of rust.
Also works well on other hard metals such as steel and stainless steel and gives great results on shower doors, faded patio furniture, plated fasteners and much more.
As this is an abrasive product, excessive pressure or extended usage on soft metals, mirrors and polycarbonate could possibly leave micro scratches, so always test a small area first. 
Should always be applied and buffed with a Micro-Fibre cloth.

FINE
Containing specially selected grades of pumice, the Fine formula is less aggressive than Original. It quickly and effectively removes rust from lightly rusted or lightly pitted chrome, whilst still leaving a lustrous shine and a protective layer which helps to delay rust from re-appearing.
Also gives great results on lighted oxidised passivated items, (zinc plating etc.), glass, mirrors and polycarbonate and is ideal for maintaining your finish after using the Original formula to restore.
As this is an abrasive product, always test a small area for suitability first. Should always be applied with a Micro-Fibre cloth.

P3 ULTRA
The newest addition to the product range contains 3 micron pumice (at least five times finer than the thickness of human hair), which leaves a super fine finish on highly polished surfaces such as pristine chrome and other highly polished metals, milled aluminium, soft and precious metals, polycarbonate, PVC, rubber, glass and mirrors.  Also works very effectively to bring back the shine to moulded ABS plastics, such as those used extensively on motorcycles.
Again, the formulated waxes leave a lustrous shine and protect the finish by delaying the ingress of moisture.
It is also ideal for maintaining your finish or after prior usage of Original and/or Fine formulas to restore.
Although this formula should never scratch or mark, you should always test a small area first to check for suitability.

Quick-Glo features on Jay Leno's Garage
Petrolhead Jay Leno was so impressed with Quick-Glo that it was featured in an episode of his 'Jay Leno's Garage' TV show. 
These 'featurettes' are used to showcase products that he likes and uses on his vast collection of cars and motorcycles.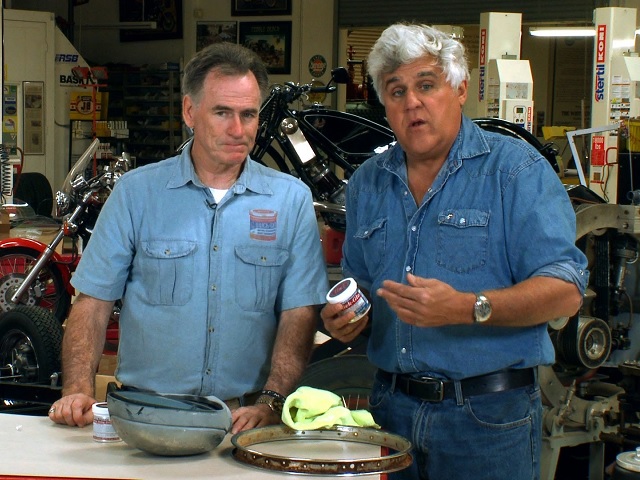 USAGE EXAMPLES
Using Quick-Glo on chrome
After being stood for 25 years, this moderately rusted 1976 Kawasaki z900 rear mudguard was restored using Original and Fine formula Quick-Glo.
As you can see on the treated area, the rust is gone, just leaving minor pitting and leaving a brilliant shine. Also the waxes help to delay the return of rust. 
Using Quick-Glo on plastics
We used the Quick-Glo P3-Ultra formula applied and buffed up with our ultrasoft microfibre cloth to restore the ABS plastic inner mudguard from the same 1976 Kawasaki z900 which had been stood for 25 years.
As you can see, the P3-Ultra formula removed the micro scratches and brought back that freshly moulded shine!
APPLICATION
Never rub hard, always let Quick-Glo do the work. Never apply in circles – side to side works best. Always apply to a test area on new surfaces. For best results apply and hand buff the Original and Fine formulas with a micro-fibre cloth. The P3-Ultra formula ideally needs our ultrasoft microfibre cloth for use on soft metals, milled aluminium and high gloss ABS plastics.
Quick-Glo is NOT recommended for painted surfaces. Accidental contact is OK but repeated rubbing might cause a brushed look.
NOTE Many microfibre cloths on the market can actually scratch soft metals and milled aluminium. We recommend the our ultrasoft microfibre cloth as this will not scratch any surface when utilised correctly. It will also allow for buffing up to a better shine than can be acheived with many standard microfibres on the market.

STORAGE
Quick-Glo is water based and generally very stable when stored between temperatures between 5°C and 32°C. Above 32°C Quick-Glo may liquify and once cooled again the ingredients may separate and you will see a wax coating on the top. If this occurs, simply place your Quick-Glo somewhere warm (in direct sunshine is best) until the wax melts again. Then give it a good shake or mix and allow it to cool down to room temperature and it will return to its original consistency.
In the unlikely event that the contents dry out a little, you can simply mix in small amount of water to bring it back to the original consistency.

Need Help?
Have questions or just need advice? Feel free to contact us.