Latest News
25/02/18
Want to try out Quick-Glo?
Then we're making it super easy and cheap with our 15ml samples which are priced at £2.49 each or £6.99 for one of each formula.
And to make this even better, each sample comes with unique code which will refund the purchase price against a future purchase of Quick-Glo!
So come on, there's never been a better time to give Quick-Glo a try!

12/02/18
We are now stocking a high density, ultra soft microfibre application cloth manufactured by Viking which is especially suited to the application of the Quick-Glo P3 Ultra formula.

06/02/18
Quick-Glo P3-Ultra now back in stock! This premium grade, super fine formula gives fantastic results on untarnished chrome, milled aluminium, precious metals, polycarbonate, glass, mirrors and shiny ABS!
23/01/18
Sign up for our newsletter to be in with a chance to win a tub of Quick-Glo chrome and metal cleaner (your choice of formula) and an application cloth! (The winner will be chosen on 1st April 2018 and contacted via email).

21/01/18
We are very excited to announce that we are now the UK's authorised re-seller for the Quick-Glo range of specialist chrome and metal cleaner s, which as well as being suitable for chrome and metal, also has a formula suitable for plastics.
More products and services will be added over the coming months to help you 'rescue, restore and ride' your classic.
20/01/18
Quick-Glo information
In 1957 Quick-Glo Original set the standard as the only non-toxic chrome cleaner, polisher with a protector for use on most hard surfaces including (but not limited to) stainless, chrome, glass, mirrors and plastics.
In 2002, Brent DeLoach purchased the Quick-Glo brand. His family run business continues to oversee the entire manufacturing process to ensure that the Quick-Glo you buy today continues to be a product of the highest standard that you can rely on to perform as intended.
Quick-Glo is three Products in one, you clean, polish and wax in one go. Saving you time and money with an environmentally friendly product that leaves a fantastic finish.
Since 2002, Brent has continued to develop Quick-Glo into a range of three formulas which are ideal for use on your classic motorcycle or car :
ORIGINAL
Contains a unique combination of pumice particles (Volcanic Ash), silica and waxes which removes heavy oxidation (rust) from chrome and metals, leaving a great shine and a protective layer which helps to prevent rust from re-appearing on chrome up to 1 year. For the Best results it should be applied with a micro-fibre cloth.
Ideal for use as a chrome restorer on your classic motorcyle. Also gives great results on tyre white walls, leather, shower doors, patio furniture and much more.
However, as Original formula Quick-Glo is the most aggressive formula, excessive pressure or extended application or use on polycarbonate could leave a brushed look. Although that is sometimes the desired look on soft metals, use Fine or P-3 Ultra to get a more polished look. NOT suitable for MIRRORS.
FINE
Contains a unique combination of pumice particles and waxes and a less aggressive formula than the Original Quick-Glo formula. It is intended as a chrome polish for removing light oxidation (rust) from chrome and metals, leaving the same shine while still leaving a protective layer which helps to prevent rust from re-appearing. Should be applied with a Micro-Fibre cloth.
It was invented to give great results on your classic motorcycle or car, chrome, glass, mirrors and polycarbonate. It's also ideal for maintaining the finish after using the Original formula previously, or to restore if rust starts to return.
P3-ULTRA
Invented for use on classic motorcycles and cars. Containing much finer pumice particles (3 Microns) with waxes for a super fine finish on chrome, highly polished surfaces, soft metals such as machined aluminum, silver, gold and even polycarbonate. It as also ideal for maintaining your finish after using the Fine formula. The ideal product give a fantastic shine to the chrome on your classic motorcycle or car.
APPLICATION
Never rub hard, always let Quick-Glo do the work. Never apply in circles – side to side works best. Apply and hand buff Original and Fine only with a micro fibre cloth. P-3 Ultra needs our special white super fibre cloth.
STORAGE
Quick-Glo is water based and generally very stable if stored between temperatures between 5'c and 32'c. Above 32'c Quick-Glo may liquify and once cooled again the ingredients can separate. If this occurs you will see a wax coating on the top. Simply place your Quick-Glo somewhere warm (in direct sunshine is best) until the wax melts again. Then give it a good shake or mix and then place it in the freezer for 5 minutes and it will return to its original consistency.
In the unlikely event that the contents dry out a little, you can simply mix in small amount of water to bring it back to the original consistency.
CAUTION
Quick-Glo is NOT recommended for painted surfaces. Accidental contact is OK but repeated rubbing might cause a brushed look.

Petrolhead Jay Leno uses Quick-Glo on his vast collection of classics motorcycles and cars.
He was so impressed with the performance of the chrome cleaner that he featured it in an episode of his 'Jay-leno's Garage' TV show.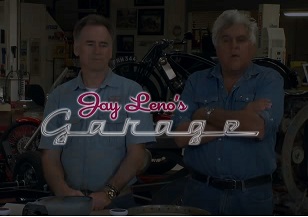 Need Help?
Have questions or just need advice? Feel free to contact us.